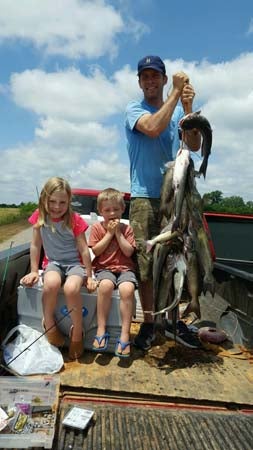 The M. Barnett Lawley Forever Wild Field Trial Area in Hale County will be open for fishing to families and small groups on several Wednesdays in upcoming months.
The fishing will be available in two catfish and two bass ponds on the property for each date listed below. Fishing spots are limited and reservations are required. To register, call 334-624-9952 starting May 20, 2019. 
Reservations for the FWFTA youth fishing dates are only available to parents or adults who are at least 21 years old. Each adult that registers must be accompanied by at least one youth who is 15 years old or younger.
When reservations are made, each group will be assigned a pond along with details such as creel limits and what kind of tackle to bring. Ponds will be assigned on a first-come, first-served basis.
There is no cost to anglers, but anyone between the ages of 16 and 64 is required to have a fishing license. Fishing licenses can be purchased online at www.outdooralabama.com/license-information.
Fishing will be from 8 a.m. to 1 p.m. on the following dates:
June 5
June 12
June 19
June 26
July 10
July 17
"We feel like having a family or group of friends make reservations is a good way to ensure that everyone has a safe, fun outing," said Bill Mason, property manager. "We would particularly like to see youth have the opportunity to fish in these ponds."
The M. Barnett Lawley Forever Wild Field Trail Area consists of 3,340 acres of pasture and a mixture of pine-hardwood forest. Historically, the property was a working cattle ranch and catfish farm. Today it is a nature preserve and recreation area with scheduled field trials and opportunities for hunting and fishing. 
If Americans with Disabilities Act accommodations are needed, please contact Evan Lawrence at 334-353-3509 or doug.deaton@dcnr.alabama.gov. Requests should be made as soon as possible, but at least 72 hours prior to the scheduled event.