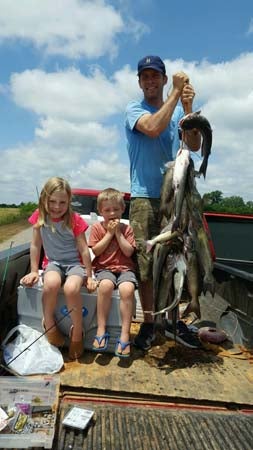 NOTICE: 2019 dates have not been set. Please check back.
The M. Barnett Lawley Forever Wild Field Trial Area in Hale County will be open for fishing to families and small groups on several Saturdays in upcoming months. Two catfish and three bass and bream ponds are located on the property. Reservations are required and can be made by calling 334-624-9952.
"We feel like having a family or group of friends make reservations is a good way to ensure that everyone has a safe, fun outing," said Bill Mason, property manager. "We would particularly like to see youth have the opportunity to fish in these ponds."
When reservations are made, each group will be assigned a pond along with details such as creel limits and what kind of tackle to bring. Ponds will be assigned on a first-come, first-served basis. There is no cost to anglers, but anyone between the ages of 16 and 64 is required to have a fishing license. Fishing licenses can be purchased online at www.outdooralabama.com/license-information.
The M. Barnett Lawley Forever Wild Field Trail Area consists of 3,340 acres of pasture and a mixture of pine-hardwood forest. Historically, the property was a working cattle ranch and catfish farm. Today it is a nature preserve and recreation area with scheduled field trials and opportunities for hunting and fishing. 
If Americans with Disabilities Act accommodations are needed, please contact Doug Deaton at 334-242-3484 or doug.deaton@dcnr.alabama.gov. Requests should be made as soon as possible, but at least 72 hours prior to the scheduled event.