Cahaba River-Shelby County Park -- The north sector features 17 miles of professionally designed and constructed trails for hiking, mountain biking and trail-running enthusiasts.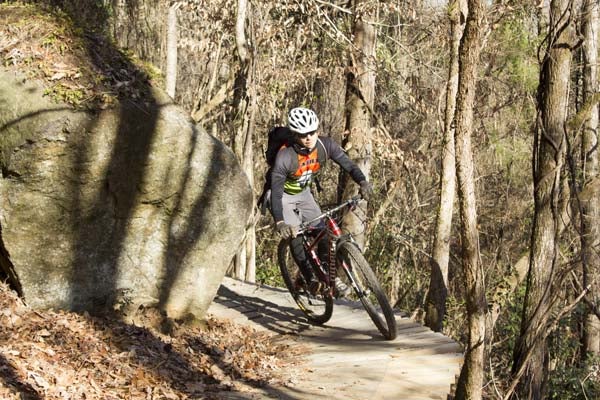 Coldwater Mountain -- 35 miles of bike trails range from beginner level to expert. This includes 2 miles of gravity trails. Two locations are available for access to the trails. The Coldwater Trailhead is located at 1661 Coldwater Road in Anniston, while the Anniston Trailhead is located at 401 Monsanto Street in Anniston. Trail Map
The Northeast Alabama Bicycle Association maintains a web page on Coldwater Mountain trail conditions and trail descriptions.
Dothan Trails -- Features a 10-mile trail system consisting of six separate trail loops linked together by connectors/bridges. Access is from three different trailheads: Beaver Trail Flats is located at 384 Narcisse Dr.; At 3636 Fortner Street, Dothan, Alabama, (across from the Crestwood Village subdivision) follow signs for Forever Wild East and West Trailheads.
Splinter Hill Bog -- A 4.3-mile-long multi-use trail for hiking, biking and horseback riding goes through much of the bog. bog. Observers can view several of Alabama's pitcher plant species. The trail can be accessed from parking areas on County Road 47 and Splinter Hill Road.
Turkey Creek Nature Preserve -- Two mountain bike trails at Turkey Creek Nature Preserve give bikers 3.5 miles of riding over moderate trails. The preserve trails can be accessed from multiple points along Turkey Creek Road in Pinson, Ala.