Forever Wild properties have more than 80 miles of hiking trails. Leashed dogs welcome.
The website RootsRated names 10 Must-hike Forever Wild Trails
Blue Springs State Park Addition -- The 2.1-mile Magnolia Trail has two .3-mile connectors. It is an easy to slightly moderate hike with scenic views of the west fork of the Choctawhatchee River.
Cahaba River-Shelby County Park -- The north sector features 17 miles of professionally designed and constructed trails for hiking, mountain biking and trail-running enthusiasts.
Coldwater Mountain -- Although the 25-plus miles of trails were constructed for mountain biking, hikers may use the trails as well. Hikers should travel the trails in a counter clockwise direction. Trail maps are available here.
Coon Creek -- Two trails at this tract give hikers good views of the property on both sides of the creek. The trails total about 5 miles and can be accessed from the main parking area.
Dothan Trails -- Features a 10-mile trail system for hiking and biking; consists of six separate trail loops linked together by connectors/bridges. Access is from three different trailheads: Beaver Trail Flats is located at 384 Narcisse Dr.; At 3636 Fortner Street, Dothan, Alabama, (across from the Crestwood Village subdivision) follow signs for Forever Wild East and West Trailheads.
Old Cahawba -- Old Cahawba has approximately 11.6 miles of trail in which hikers can walk through central Alabama prairie and pine woods habitats. Parking for the trails is located on Cahaba Road 1 mile west of the intersection with County Road 9.
Perdido River WMA -- The 17.9-mile Perdido River Hiking Trail is rated easy to moderate with numerous views of and access to the Perdido River. Parking areas are available at either end and in the middle of the trail. Hikers are allowed to use the six shelters found along the trail provided they follow the rules and reserve the shelters online at www.alabamacanoetrails.com. 
Shoal Creek Preserve -- Two trails totaling 4.3 miles give hikers views of Shoal Creek, Indiancamp Creek, Lawson Branch, and Jones Branch, all on this small 300-acre property. Parking is located on County Road 61.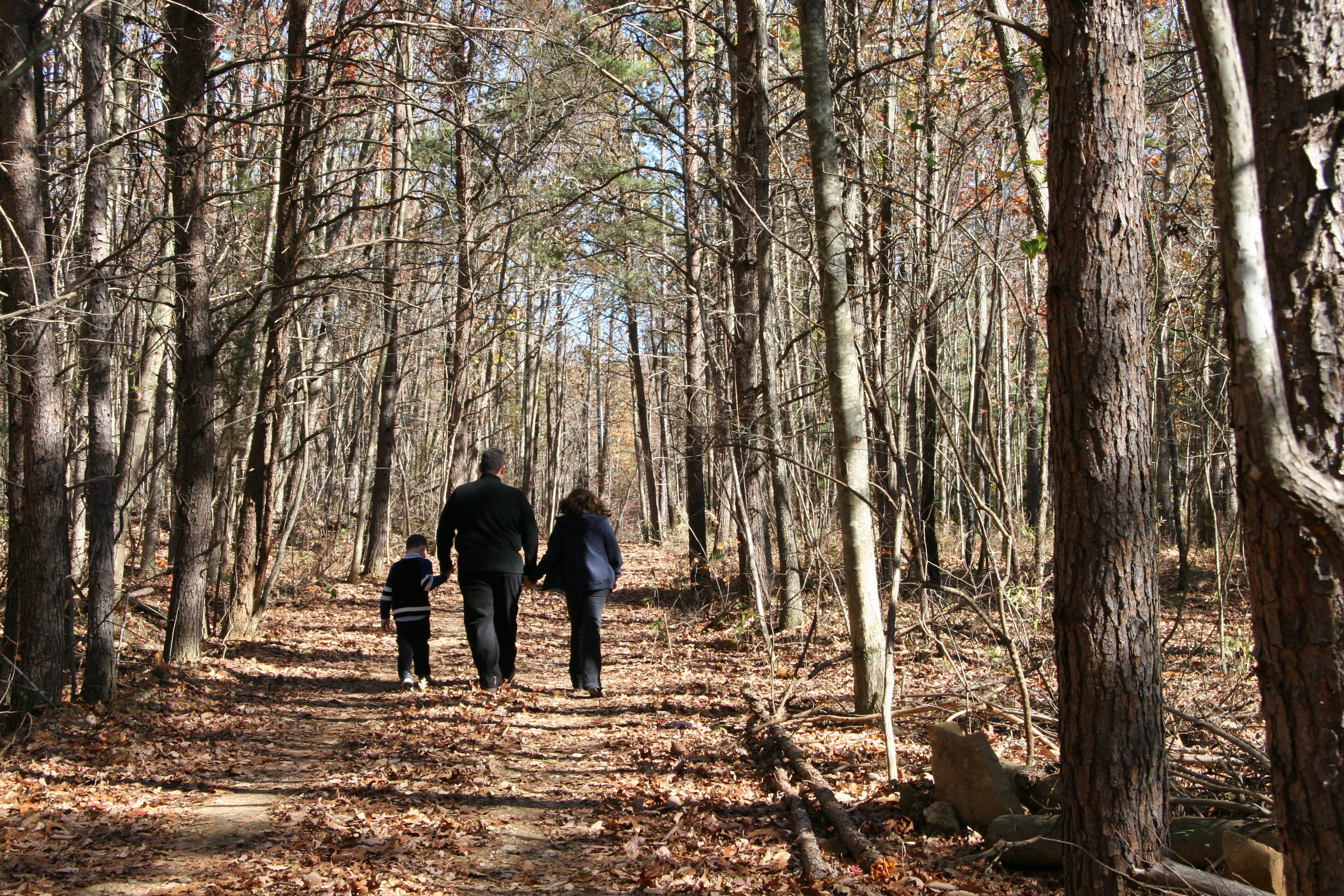 Turkey Creek Nature Preserve -- A total of 6.25 miles of trail highlight many of the unique aspects of the property. Five separate trails take hikers along Turkey Creek and over the small hill on the west side of the creek. The preserve trails can be accessed from multiple points along Turkey Creek Road in Pinson, Ala.
Splinter Hill Bog -- A 4.3-mile-long multi-use trail for hiking, biking and horseback riding goes through much of the bog. bog. Observers can view several of Alabama's pitcher plant species. The trail can be accessed from parking areas on County Road 47 and Splinter Hill Road.
Walls of Jericho -- The Walls of Jericho has two hiking trails that start from the northern parking area on HWY 79. The Bear Den Point Trail heads east from the parking area and circles 4.7 miles around Bear Den Point. The Walls of Jericho trail heads west from the parking area down to Hurricane Creek then follows Turkey Creek into the Walls of Jericho. At Clark Cemetery hikers are given the option of an upper and lower trail taking them above or into the amphitheater respectively. This trip is 7 miles round trip and is considered a difficult hike.
Wehle -- A day-use hiking trail provides access seven days a week. Parking is available on Pleasant Hill Road. Three additional trails provide hiking opportunities on open weekends.
Yates Lake -- This tract has two hiking trails. The John B. Scott Forever Wild Trail consists of a 4.7-mile loop starting and ending in the north parking lot on Goldmine Road. The Cherokee Bluffs Dam Railroad Trail is a 2.7-mile trail starting at the north parking lot on Goldmine Road and ending at Channahatchee Creek. The trail is currently only complete to Channahachee Creek but, once completed, it will be 4.3-miles in length and end at the parking area on Tucker Road.