FOREVER WILD PROFILE: THE RED HILLS TRACTS
By Kenny Johnson, ADCNR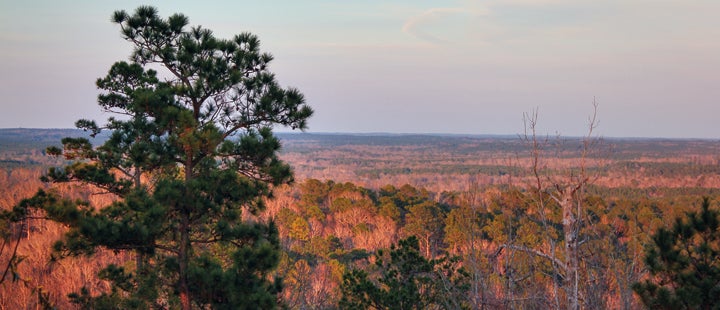 The best of what Alabama has to offer is often hidden in plain sight. Take a detour onto any county road and you are bound to stumble upon something you've never seen before and probably didn't  know existed. The Red Hills of Alabama, located just west of I-65 about 20 minutes north of Monroeville, Ala., are a prime example.
HILLS AND VALLEYS
From the Interstate, you don't even know they exist, but the view is surprising while driving on Alabama Highway 41.
The topography of this area is dynamic. The wrinkled coastal plain landscape rolls and tumbles in folds of stone, clay and sand. Scattered throughout the area are exposed mounds of rusty, red soil that hint at the complex geologic mix below the surface.
From a car window, the hills roll, but up close the grade between hill and valley is much more dramatic. The occasionally exposed limestone ridges, once buried beneath the waves of a prehistoric shore- line, offer up fossils that hint at Alabama's ancient past. In places, the elevation drops dramatically into forested slopes and valleys that provide ample shade and cover for wildlife.
FOREVER WILD
Much of this area is privately owned, but two tracts of land are part of the state's Forever Wild Land Trust. The 4,376 acres of the Red Hills tracts are divided into two sections located between the Alabama River drainages of Beaver and Tallatchee creeks. Recreational opportunities include hunting, woods road hiking/ exploration, wildflower viewing, photography, and bird and wildlife watching. The Red Hills tracts are open to visitors year-round.
The two tracts are joined by a dirt road that cuts through private property and dead-ends on the north Red Hills tract.
Well-marked gates and kiosks just off the main road delineate the Forever Wild properties. Each section offers a different outdoor experience: the south tract is primarily pine forest, while the north tract is dotted by limestone outcroppings, steeper hills and overlooks that showcase the unique topography of the area.
Previously harvested for pine, the Red Hills tracts are currently being managed primarily for wildlife habitat and for public access. White-tailed deer, Eastern wild turkey, many reptiles, small mammals, and songbirds inhabit the Red Hills. The threatened Red Hills Salamander is also found in the forested slopes and bottoms.
The Alabama State Lands Division, which administers the Forever Wild program, is taking a piece-by-piece approach to future management of the Red Hills tracts, which were acquired in 2010. Recently, State Lands partnered with the National Wild Turkey Foundation to improve wildlife habitat on the property. A 500-acre prescribed burn conducted in March 2014 has begun generating natural food sources for wildlife. Other site-specific habitat restoration projects are being considered that will blend habitat conservation with public access considerations.
"The Red Hills tract is a natural laboratory through which we can better understand the local wildlife population and develop habitat management plans accordingly," said Jeremy Doss, a wildlife biologist and conservation enforcement officer for the Alabama State Lands Division. "This is highly erodible land so we'll be taking a deliberate approach in our conservation efforts in order to make the best decisions for this unique ecosystem."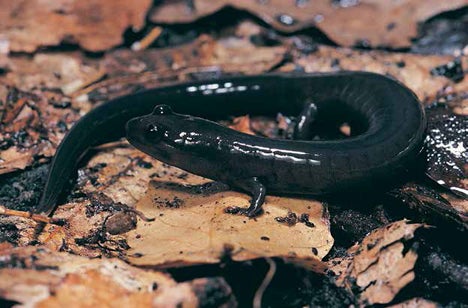 LIVING FOSSIL
The Red Hills tract is home to one of Alabama's most ancient residents, the Red Hills salamander (RHS). With an elongated body that grows up to 10 inches, the RHS is one of the largest lungless salamanders in the world. Its translucent purple skin helps make the RHS a strikingly beautiful animal, but you're unlikely to catch a glimpse of this creature. It spends most of its time hunkered down in a subterranean den only venturing out at night to ambush small prey like crickets, spiders and earthworms.
The known range of the RHS consists of a relatively small strip of land in the Red Hills region of Alabama. This geographic isolation allowed the animal to evolve independently from other salamander species millions of years ago making it the only member of its genus. Due in part to its very limited range, low reproductive rates and specific habitat requirements, the RHS is federally listed as a threatened species.
Discovered by accident in 1960 by malacologist Leslie Hubricht, the RHS was immediately considered new to sci- ence. A specimen was sent to herpetologist Richard Highton for identification and named in Hubricht's honor, Phaeognathus hubrichti. Since 2000, the RHS has been recognized as Alabama's official state amphibian thanks to a group of Fairhope Elementary School third graders who campaigned for the designation.
The RHS inhabits the forested slopes and valleys below the steep bluff of the Red Hills, which stretch out over Conecuh, Covington, Crenshaw, Butler, Monroe and Wilcox counties. The more temperate slopes and plentiful leaf litter provide the shade, cover and moisture needed for the salamander to survive. Habitat fragmentation is considered one of the primary challenges to the survival of the RHS.
While only covering a relatively small portion of the RHS's range, the Forever Wild Red Hills tracts help to ensure that this unique Alabama resident remains viable. The total number of Red Hill salamanders is unknown, but researchers continue to perform periodic surveys in hopes of better understanding its conservation requirements.
HUNTING THE RED HILLS
Most visitors to the Red Hills go there to hunt. The two tracts are open to large and small game hunting when in season. Deer and turkey are the most popular game animals at Red Hills.
For Jessie Peacock, a lifelong hunter and Marine Police officer living in south Alabama, the Red Hills tracts are his not- so-secret, secret hunting spots.
"I'm hesitant to tell you anything good about it because I'd like to keep Red Hills to myself," Jessie joked.
Jessie's first hunt at Red Hills was the charm. He was hunting Red Hills with his father and two friends. After helping his dad and friends settle into their hunting positions, Jessie sought out his own spot. Dawn was breaking and Jessie needed to get up a tree quickly. He walked through a briar patch and at random chose a tree to climb.
After spending 30 minutes in the tree, he saw a doe enter the clearing near his position. He shot and killed the doe. Not wanting to ruin his companions' hunt by dragging the deer out too early, Jessie decided to wait before descending the tree.
As 9 a.m. approached, Jessie hadn't heard a shot from his hunting partners. He stood up to begin his decent when he heard hoof steps. It was 4-point buck running up the ridge. Jessie shot and bagged his limit for the day.
Not all hunts are that successful, but all hunts are memorable.
During one of Jessie's pre-dawn turkey hunts at Red Hills, luck favored the bird. Jessie, accompanied by a friend, parked on the main road near a gate that leads to a ridge normally visited by turkey. The men exited the truck and listened. Almost immediately, they heard a gobble, maybe 100 yards away, but it was hard to tell exactly how far away the bird was.
"If you don't know the terrain at Red Hills, it can be treacherous," Jessie said. "The sound can bounce around between the hills making it hard to tell where it's coming from."
The men entered the woods and began yelping to draw out the gobbler.
"Suddenly, a hen yelped pretty close to us and the gobbler responded to her," Jessie said. "We ducked into the woods and sat for about 20 minutes occasionally yelping to the gobbler."
They received no response.
"As we started to stand, the turkey gobbled from a tree about 60 yards in front of us," Jessie said. "We dropped on our butts, quick."
The bird jumped out of the tree and ran across the ridge toward them, stopping briefly to strut then continued to approach. It stopped and looked right at them.
His friend whispered, "Shoot!"
"I did," said Jessie, iffy about the potential accuracy of the shot.
He missed. The bird flew away and the hunt was over.
"Being out in the Red Hills is worth the experience, successful trip or not."
Jeremy Doss agrees that the Red Hills is a special place that deserves repeat visits.
"Since I began working on this land, I am constantly surprised by how much it has to offer," he said. "You could walk the Red Hills tracts for a lifetime and continually see and experience something new."
CAMPGROUND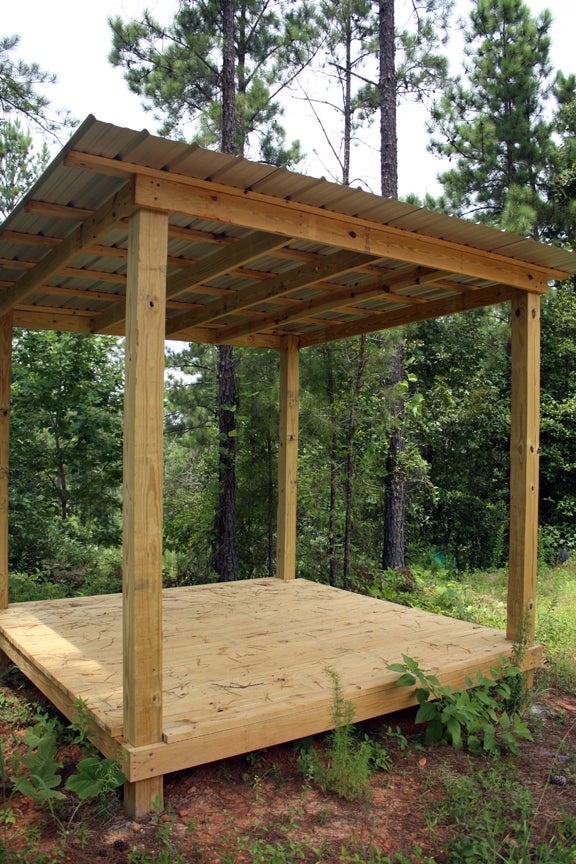 Recent improvements to the Red Hills primitive campground include a shelter constructed by Pierce Bryan of Monroeville as part of an Eagle Scout project. He built the shelter with help from local Scout Troop 24. The campground is open during hunting season(s) and is first-come, first-served.
RHS WORKING GROUP
The U.S. Fish and Wildlife Service, Alabama Department of Conservation and Natural Resources, the Alabama Natural Heritage Program, the Nature Conservancy, and others have formed a Red Hills Salamander working group to identify conservation needs for the spe- cies. The group meets annually to discuss current and future activities related to RHS recovery.
HUNTING
Hunting is allowed on the Red Hills tracts when in season. Open gate weekends extend access deeper into the property. All you need to hunt Red Hills is a valid Alabama hunting license. More information about hunting a Forever Wild property.
DIRECTIONS
From Camden, take AL-41 South approximately 22.2 miles to River Ridge Road. Turn left on River Ridge Road and travel approximately 1.5 miles to the parking lot on the left. Parking is also available road- side along River Ridge Road, which dead ends on the north Red Hills tract. 
WILDFLOWERS OF THE RED HILLS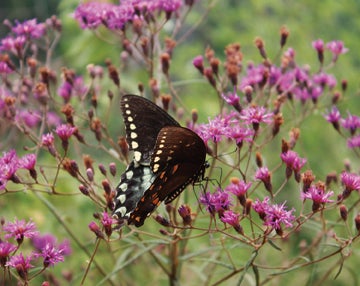 Tall Ironweed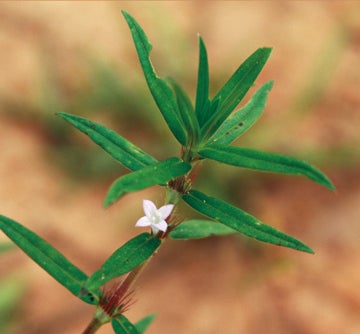 Poorjoe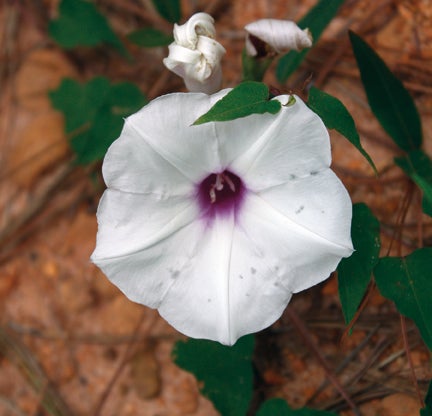 Morning Glory