Ruffner Mountain Nature Preserve: Forever Wild's Supporting Role
By Kenny Johnson, ADCNR
For those living in fast-paced urban environments, spending time out- doors often includes the stress of making travel plans, packing for the weekend, boarding the pets and many other anxiety-inducing tasks   that can make travel feel tedious. Often, by the time the destination is reached the traveler is more exhausted and stressed than before leaving town to relax. Cities that feature urban nature preserves offer a welcome retreat from the stresses of daily life without spending hours in a car. Birmingham, Ala., is fortunate to be one of those cities.
NATURAL LANDMARK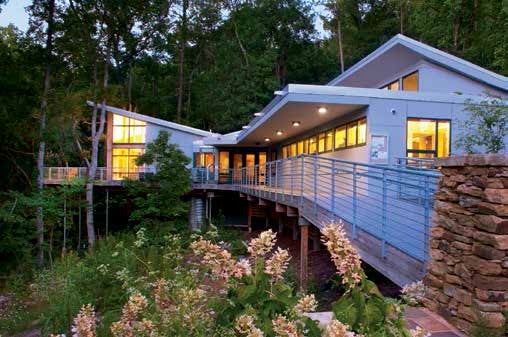 Outlined by interstates 20, 59 and 459, Ruffner Mountain Nature Preserve is located in northeast Birmingham near Irondale. At more than 1,300 feet tall, Ruffner Mountain is a natural landmark that offers panoramic views of its man-made surroundings. Looking down from its mostly undeveloped ridges, you get a sense of how the veins of iron ore that run beneath the forest helped transform Birmingham into "The Pittsburgh of the South."
Phosphorous-rich ore used for foundry iron was once what brought people to the mountain. Today, the nature preserve is the main attraction. What began in 1977 with 25 acres of former limestone quarry and mine land has grown into one of largest urban nature preserves in the country. The preserve now consists of 1,083 acres (larger the New York's Central Park) thanks to additional tracks of land provided by the city, various conservation organizations, and the state's Forever Wild Land Trust.
The Ruffner nature preserve features a Leadership in Energy Environmental Design visitor's center that complies with the Americans with Disabilities Act guidelines, mining history exhibits, educational programs and live animal exhibits. One of the best ways to explore the preserve is along its 12 miles of trail that range from easy to difficult. The trails are well-maintained, marked and offer plenty of wildlife and wildflower viewing as well as some excellent bird-watching and scenic overlooks. Visitors can access the preserve seven days a week via the main gate and from two locations on Ruffner Road. The visitor center is closed on Mondays.
(Nature center photo by Bob Farley)
UNDERGROUND HISTORY
After the Civil War, Alabama became one of the primary iron-and steel-producing states in the country. From the late-1800s through the 1950s, iron ore was carved out of Ruffner Mountain's interior and sent to nearby Sloss Furnace to be transformed into pig iron, a high-carbon iron that is more brittle than steel. By the mid-1900s, Birmingham's economy began to diversify and the steel industry declined. The Ruffner mines would be abandoned for decades as nature reclaimed the land. Remnants of the mountain's mining past, including personal items from the mine workers are on display at the preserve's visitor center. Ore-crushing equipment and other mining artifacts can still be seen along the trails.
FOREVER WILD PARTNERSHIP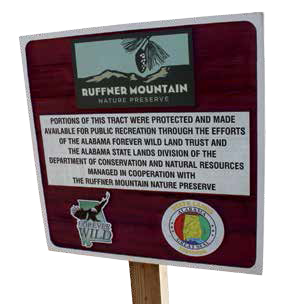 In 2014, the nonprofit research group The Outdoor Foundation surveyed approximately 20,000 individuals and families nationwide and asked about their participation in outdoor recreation. The survey found that a lack of access and proximity to the outdoors is a barrier to participation in outdoor recreation for many people.
The Forever Wild Land Trust Ruffner Mountain Addition was purchased in 2000. Since then, the land has helped increase access to outdoor recreation for thou- sands of visitors.
For example, the Lizard Loop trail, part of the preserve's 12-mile trail system, is located entirely inside the Forever Wild tract. The Pipe- line Trail also extends along the southern portion of the Forever Wild tract and connects to the preserve's wetland area, a prime birding location.
The Forever Wild tract is also connected to Ruffner's mining history. At least one abandoned mine is located within the tract and mining artifacts including an ore crusher, a cable hoist building and electric power poles used in the mining operations are located along the Lizard Loop spur trails. Additionally, the foundation of the Lizard Loop trail was once a railcar route used to haul iron ore down the mountain.
Chris Smith, (former) administer of the Forever Wild program for the Alabama State Lands Division, says that increasing access to outdoor recreation is one of the primary goals of the program. Approximately one-quarter of the nature preserve, 227 acres, is made available through the Alabama Forever Wild Land Trust.
"The Forever Wild Land Trust enjoys the partnership that has developed with the Ruffner Nature Preserve," Smith said. "This type of relationship and others like it assist the State Lands Division with land and wildlife management.
These partnerships also provide opportunities for conservation education, outreach, and outdoor recreation that benefit all Alabamians."
This type of supporting role is something familiar to the Forever Wild program. Currently, more than 240,000 acres of Forever Wild land have been made available as standalone tracts or as additions to other public lands including the Birmingham Southern Environmental Institute's Turkey Creek Nature Preserve, Tannehill Ironworks Historic State Park, and various wildlife management areas, state parks and nature preserves throughout the state.
RECREATION AND EDUCATION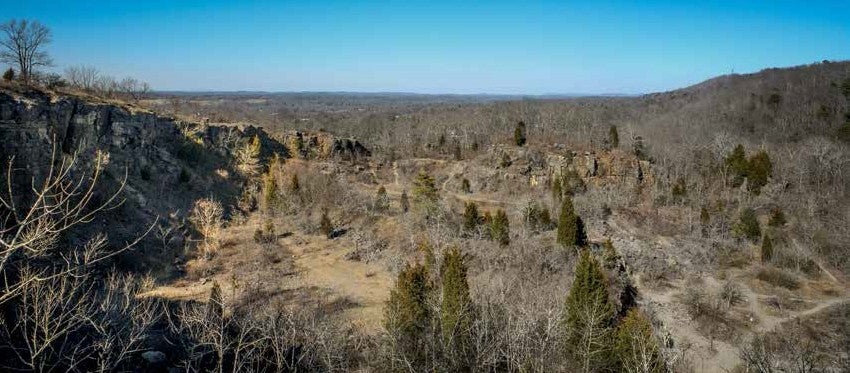 From wildlife and bird-watching to hiking and trail running, spending time outdoors is a proven way to reduce stress and improve quality of life. However, birdwatchers and hikers aren't the only ones who benefit from public lands.
These locations can also serve as outdoor laboratories for scientific study.
Starting spring 2015 and extending into 2016, Nicola Seitz, a doctoral student working with the University of Maryland, will conduct a field study at Ruffner focused on interactions between the plant widowsfrill and a species of moth, Hadena ectypa. A bat population survey will also be conducted at the preserve in the near future.
As Conservation Land Manager for the nature preserve, Jamie Nobles has firsthand experience with how the Forever Wild tract benefits wildlife, researchers and visitors to the mountain.
"Forever Wild compliments our mission to preserve this land by protecting native species, common and threatened, as well as providing an environment for recreation and education," he said.
Ruffner Mountain has also become a popular destination for school field trips. Nature preserve staff and volunteers conduct various children's camps, guided hikes and nature- themed classes throughout the year. Rental facilities within the preserve are also available for meetings, weddings, birth- day parties and other events.
PLANNING YOUR VISIT
After a long, cold winter, the fauna and flora of Ruffner Mountain are waking up. In the coming months visitors will be greeted by a variety of wildlife and wildflowers through-out the nature preserve. Remember to bring binoculars or a camera to take home the memories of your trek. While relatively mild, spring in Alabama can stir up unpredictable weather. Make sure to check the forecast and dress appropriately for your visit.
In addition to Ruffner Mountain, Birmingham has many mountain biking and hiking trails. Oak Mountain State Park is just 30 miles to the south of the preserve and the Forever Wild Turkey Creek Nature Preserve is only 11 miles north of Ruffner Mountain. Both locations offer excellent hiking and biking experiences. Other outdoor adventures in the Birmingham area include Red Mountain Park and Tannehill Ironworks Historical State Park. The Forever Wild Coldwater Mountain tract and several state parks are also within a one- to two-hour drive from the city.
While a few environmentally sustainable cabins and campsites might be in the preserve's future, there are currently no overnight accommodations on Ruffner Mountain. For those planning to explore the nature preserve over a few days, Oak Mountain State Park in Pelham has plenty of campsites and cabins to choose from that are a short drive to many Birmingham retail and dining options. The nature preserve also hosts special events throughout the year including concerts and campfire talks. For more information to help plan a visit, visit the Ruffner website at www.ruffnermountain.org.
Ruffner Mountain Nature Preserve
1214 81st Street South 
Birmingham, AL 35206
Nature Center Hours
Tuesday-Saturday: 9 a.m.-5 p.m. Sunday: 1 p.m.-5 p.m.
Monday, closed
Admission
$3 trail use fee
Trails
Open daily, sunrise to sunset
Contact
205-833-8264
ruffnermountain.org